Title:
500 Days Of Summer
Genre:
Romantic Comedy
Starring:
Joseph Gordon-Levitt,
Zooey Deschanel,
Certificate:
US: PG-13
UK: 15
Picture:
1080p
2.40:1
Audio Format:
DTS-HD Master Audio 5.1
Subtitles:
English,
Danish,
Finnish,
Norwegian,
Swedish
Runtime:
1 Hours 31 mins
Extras:
Music Video,
Audio Commentary,
Deleted Scenes,
Featurettes
Studio:
20th Century Fox
Release Date:
UK: Jan 18 2010
US: Dec 22 2009
See If You Like:
High Fidelity,
Pushing Daisies,
500 Days Of Summer is one of those films nobody ever expected to amount to anything, so when it wowed audiences at last year's Sundance Film Festival, with its extremely quirky nature and wonderfully fresh take on a tired and stale genre (the romantic comedy), to the extent of receiving a standing ovation, it was clear that 500 Days… was going to either be a breakthrough hit that would change the genre forever, or at the very least prove to be a magnificent, quirky, totally different, cult hit..
However, the movies creators wouldn't like 500 Days… to be labelled as a romantic comedy and are actually adamant that it is not a love story (so says the back of the case, film text, and the narrator), and it isn't.. but, it kind of is. It all revolves around a fairly average greetings card writer named Tom Hansen (Joseph Gordon-Levitt, 3rd Rock From The Sun), his strong beliefs in true love (formed from British pop-songs and a severe misreading of the film The Graduate), and his obsession with his boss' new assistant, Summer Finn (Zooey Deschanel, Hitchhiker's Guide To The Galaxy (2005)), who he believes is 'the one.'
The film actually begins on day 290 of the pair's relationship, the day that Tom and Summer broke up, and proceeds to hop back and forth throughout the picture in a somewhat sporadic fashion chronicling their relationship from the first meeting, to infatuation, right through to becoming a couple, growing their relationship and the aftermath of their break-up leading to subsequent meetings and a will-they-won't-they storyline where, for once, the answer isn't guaranteed.
The feeling of uncertainty adds to the infinite appeal of 500 Days… and makes the couple's relationship all the more realistic, as do the strange and unique shorts that are used to accurately convey Tom's emotions; from dancing in the street, in a manner akin to 60's musicals, to having the whole world turn animated and disappear, leaving only Tom and his depression, and even showing his full range of emotion and sadness through a parody of a French New Wave movie.
The couple's interactions are also very odd, yet completely believable; actions such as trying to sing the Knight Rider theme tune to each other, playing a game where the object is to shout a rude word the loudest at inappropriate times, or testing out rooms at their local IKEA; and it's that believability and realism that makes viewers unsure if Tom and Summer will get together, especially seen as how she makes it clear to him from the beginning that she isn't looking for anything long-term, but still appears deeply taken with him.
Acting from the entire cast is almost insurmountably real; Joseph Gordon-Levitt's take on Tom is excellent, and appears 100% honest, as there isn't one moment during his portrayal of the love-struck dweeb that his emotions, be they ecstatically happy or depressingly sad, aren't totally convincing. Likewise Zooey Deschanel is brilliant as the unusual and unique Summer; she's intriguing, has an unusual charm that can't be placed, and it is easy to see how someone like Tom might fall for her; but her real talent is in the subtlety of her performance which can be read in a number of ways (and is, during Tom's many reflections on memories that he once thought were happy), and the complete impossibility of being able to tell what she is thinking. Everybody has known a girl like Summer, and judging by this performance, it's hard to believe that Zooey    Deschanel can possibly be anybody else.
Supporting cast members also offer fairly strong showings, from the purely comedic best friends played by Geoffrey Arend and Matthew Gray Gubler (Criminal Minds), to the sympathetic boss (Clark Gregg, Ironman), and the standout supporting cast member; Chloe Mortez (Dirty, Sexy, Money), as Tom's much younger, but infinitely wiser, sister who always provides him with solid and honest advice which she shouldn't really have judging by her age.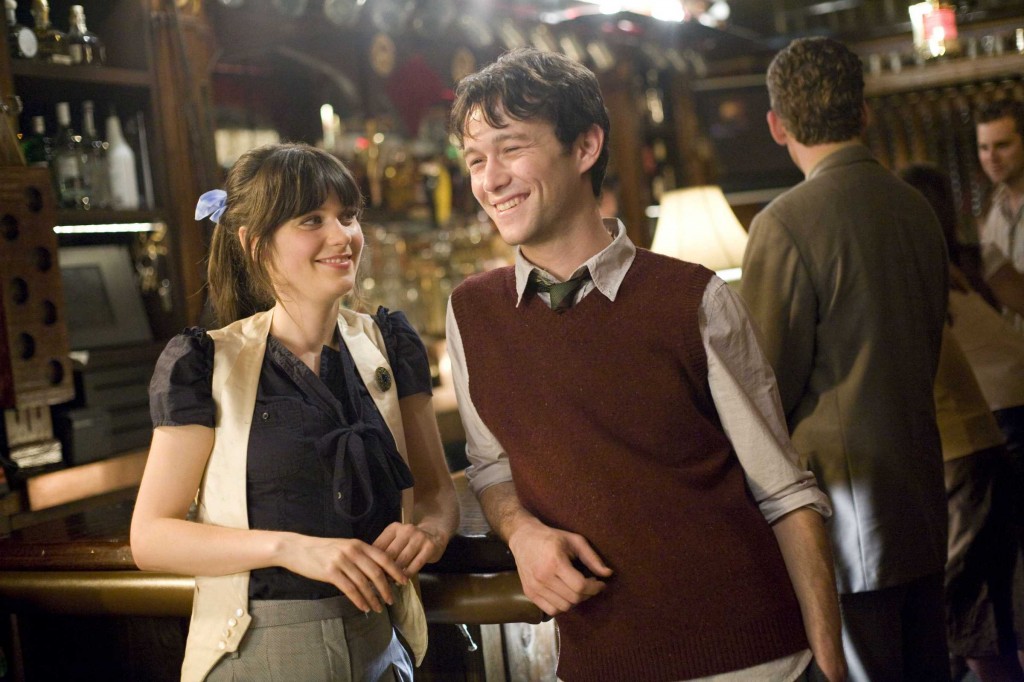 Direction is fantastic, and 500 Days Of Summer has a brilliant way of telling a story practically every viewer will have some experience with. Skipping back and forth, and covering the same scenes from multiple angles or emotional viewpoints was also a very clever decision, as it is something that everyone does in their heads, and really adds to the characters emotions, allowing the audience to empathize with them. The only problem with the back and forth is trying to remember, at first, the exact day when Tom and Summer first broke up, but that soon becomes abundantly clear and is never really a big issue.
Furthermore, the unique style is also brilliant as, while the street dancing and animation may seem slightly weird, there is no better way to convey the characters emotions so well; the perfect example being a split screen scene where one half shows Tom's high expectations for an evening with Summer, and the other shows the harsh reality of the very same evening.
In short, 500 Days of Summer is a film that simply shouldn't be missed, it is a brilliant movie, and total genre buster; a romantic comedy that isn't a love story, that is actually funny, quirky, and for once, original. It never patronizes the audience, or reuses the same 20 year old plot viewers have begun to grow so tired of. It's a refreshingly honest film that is completely unique and will appeal to both men and women in equal measure (something almost no other romance films can honestly claim), and easily warrants several repeat viewings.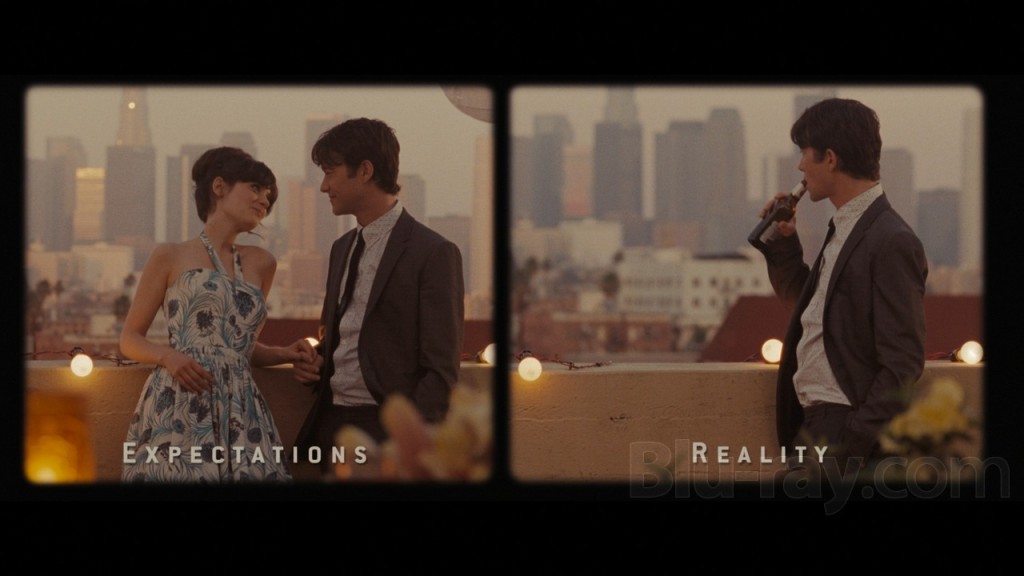 Picture:
500 Days… is a romance movie, so it was never expected to be famed for its stunning visuals, or having a picture that would lose much in terms of clarity in the transition from big to small screen, but nevertheless it is clear that some real effort has been taken with this transfer.
The 1080p video boasts consistently good black levels that provide a large amount of detail even in shadowy areas, fleshtones that are almost always perfect (there are one or two short instances where they veer slightly towards the orange end of the scale, but still remain pretty natural looking), and well balanced colours throughout; in both the subdued scenes which contain mainly creams and beiges, and the happier scenes involving Summer, where there is almost always a bright splash of blue.
Detail is also fairly sharp, as individual eyelashes or fibres on clothes can be seen with ease, but this isn't the sharpest Blu-ray around as the filmmakers kept it intentionally soft looking (which actually suits the tone of the film). There is also some minor grain evident throughout the picture, but nothing distracting, and overall this is a rather impressive transfer that isn't likely to disappoint.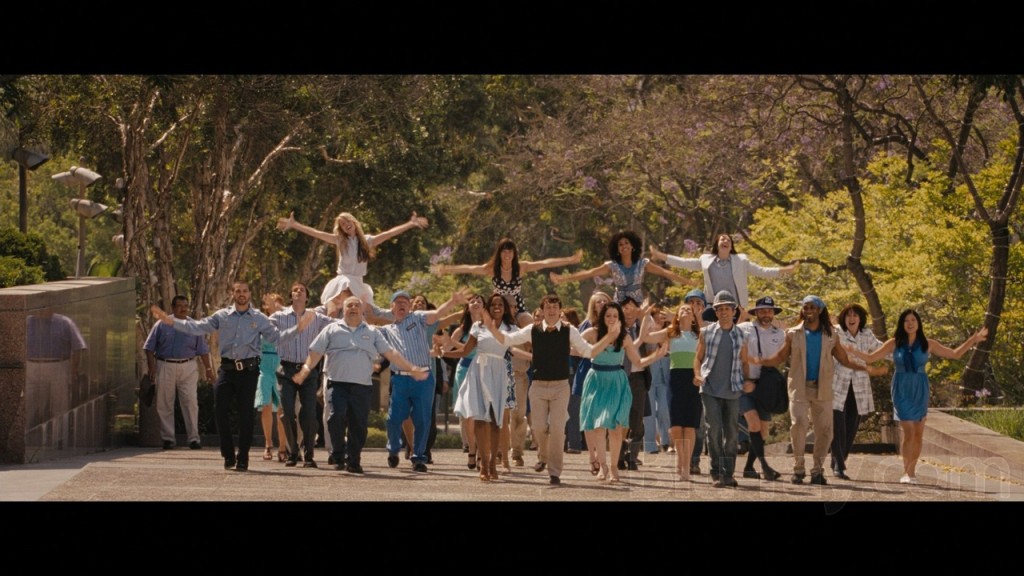 Audio:
Presented via a DTS HD MA 5.1 surround sound mix, the soundtrack to 500 Days of Summer isn't one that is going to make anybody sit back and go 'wow.'
It has a 5.1 track almost in name only as rear channels barely get used, only for some quiet ambient noises in a small number of scenes (at a party or outside on the streets of L.A.), and don't even crank up when some of the more engaging soundtrack music is playing. Bass is also practically silent throughout, which can be expected in a movie with no gunfights or explosions, but could have added a good deal of depth to some of the music used.
However dialogue, the single most important sound in the film, is rendered exceptionally well and, although almost always weighted down to the front centre channel, exceptionally clear (even when the film's pop tracks are in full swing).
A mix that won't be pushing the limits of any surround system, or convincing anyone of the need to go Blu, 500 Days… soundtrack is subdued and not all that immersive, but shines where it really counts (rendering the dialogue), and serves the story fairly well.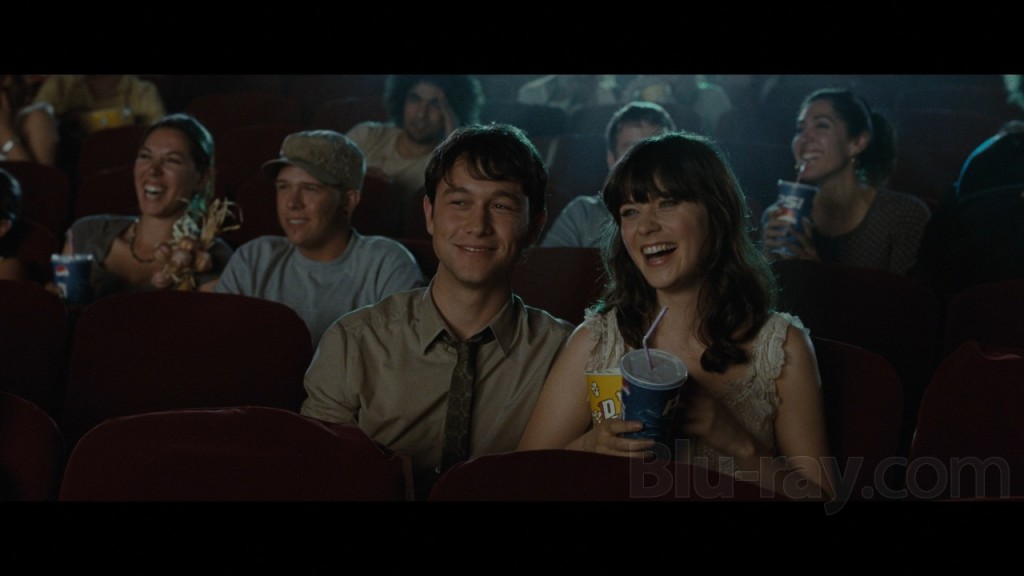 Extras:
500 Days… comes with an interesting selection of bonus features that include an audio commentary from the filmmakers and Joeseph Gordon-Levitt; which is fairly interesting and informative, despite the boys often spiralling off topic; a selection of deleted and extended scenes; which are interesting as they clearly illustrate the lengths that were taken to create just the right film, from taking the time and effort to make complex scenes and then simply cutting them if they didn't fit; and two music videos; one from Zooey Deschanel and one from Temper Trap, whose enjoyment will depend completely on individual taste.
There are also conversations with the two lead cast members; answering fairly standard interview questions about their favourite parts of L.A. the music used and karaoke and the comparison between acting and reality; as well as an amusing short where the two leads act like Sid and Nancy.
Overall a fun and interesting array of features, which will have obvious appeal to fans of the film (less so to casual viewers), although it is surprisingly disappointing when discovering that several features have been left out during the movies trip over from America (bizarrely this includes the making of featurette), and unfortunately the U.S. release is supposedly region locked, so even importing isn't an option.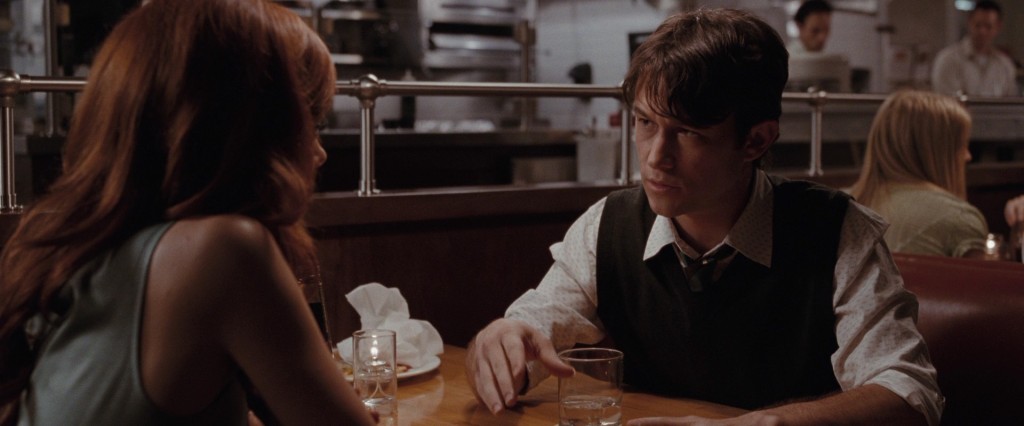 The Bottom Line:
Concluding, the Blu-ray disc for 500 Day of Summer is pretty damn good, it's got a great picture (not the sharpest ever, but far above passable), sound that will far from astound but is more than acceptable and serves the movie perfectly, and extras that may not line up against the U.S. standard, but are interesting and fun nonetheless, but the main argument for this disc (as should always be the case) is the film itself.
500 Days of Summer is one of those films that only comes around every so often, it'd be no stretch to say that it is one of the best romance films of all time, and it is so because of its realistic plot (abandoning the popular fairytale love story in a modern setting, which is used so often) and its weird and quirky nature; making it not only unique, but endearing; as the emotions conveyed by the odd moments in the film, and the relationship as a whole, is something that virtually every viewer will be able to relate to.
A brilliantly fresh and wonderfully realistic story that isn't about love and, oddly for a romance, will have male viewers hooked just as easily as the ladies. 500 Days… is one of 2009's best films and a real must own, because anyone that has seen is it sure to want a repeat viewing.