Title:
Criminal Activities
Director:
Jackie Earle Haley
Starring:
Michael Pitt,
Dan Stevens,
John Travolta,
Jackie Earle Haley,
Genre:
Crime, Thriller,
Runtime:
1 Hour 32 mins
Music:
Keefus Ciancia
Studio:
Acorn
Certificate:
15
Release Date:
Mar 07 2016
See If You Like:
Get Shorty,
Horrible Bosses 2,
Coming from director and star Jackie Earle Haley (Watchmen, A Nightmare on Elm Street, Shutter Island), Criminal Activites is a low-budget movie about a bunch of average joe's forced into kidnapping a known drug dealer. A darkly serious film with the right amount of comic edge, it's intense, funny, and surprisingly strong.
Seeing the four friends; leader Zach (Michael Pitt, Boardwalk Empire); money-man/worrier Noah (Dan Stevens, The Guest); group conscience Warren (A Most Violent Year); and the average Bryce (Rob Brown, The Dark Knight Rises); forced into kidnapping a drug-leader by mob-man Eddie (John Travolta, Pulp Fiction), is nothing new plot-wise, as we've seen countless movies where bad guys force good guys into stepping outside their comfort zone and breaking the law.
Stylistically there's also very little Criminal Activities has to offer we haven't seen a thousand times before; clearly dumbing down to the limitations of its budget, the cinematography is bland and uninteresting, shot composition is average at best (sometimes downright messy), and the whole thing is shot with the same near-colourless filter we've grown accustomed to with straight-to-DVD action release in the same vein/price range.
What is different though? What makes Criminal Activities stand-out from the crowd? Well, aside from Travolta (who despite not being at his best, still has real screen presence as Eddie), it's the dynamic within the group of friends; they're bungling their way through their criminal escapade, and it's interesting not only to see the way in which they execute their task, but the various thought processes and worries which cause them to bicker and argue throughout.
Yet while the friends' dynamic is interesting, it's Edi Gathegi (X-Men: First Class) who puts in the films best performance; topping Pitt's shouter, Stevens' panicky one, Travolta's… Travolta, and even Jackie Earle Haley's cool-man enforcer (sorry Jackie, but we've seen him too many times before). Trying to talk his way out of the situation, figure out why he's been kidnapped, and philosophise with his kidnappers, he's enigmatic, charismatic, and a joy to watch throughout.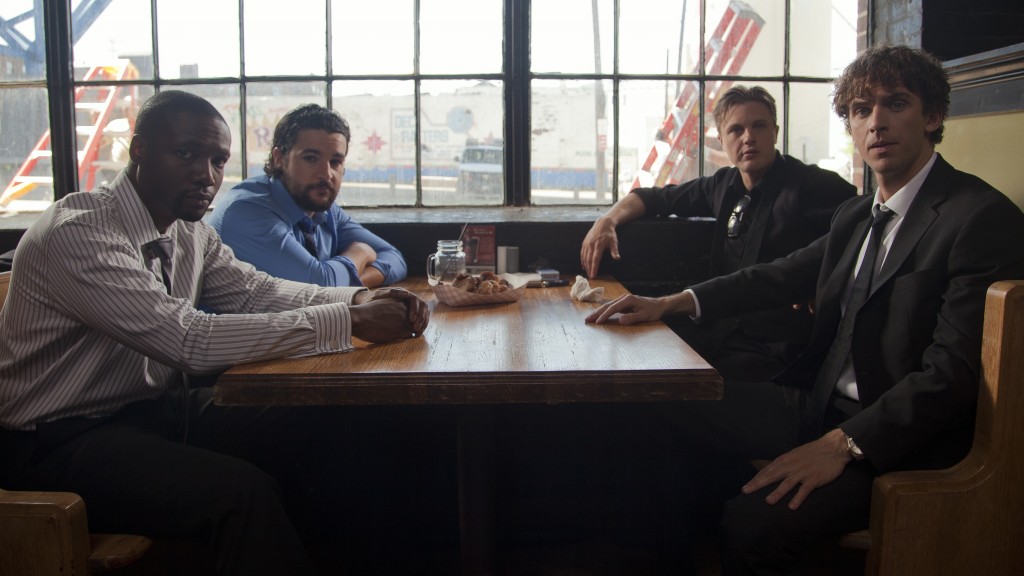 Even better, given the fairly tried and tested nature of the plot, and the hit-or-miss comedy elements (sometimes the vicious bite to the boys' bickering can sour the taste of the jokes and make them hard to swallow), is the film's final act; it's not entirely unpredictable, and thinks it's far cleverer than it is (as it tries to get one over on us with a poor Usual Suspects' twist), yet the revelations, flashbacks, and "here's how it was done" nature of the whole thing proves to be grounded and gripping.
So, while Criminal Activities might not be the funniest crime movie, or the most action packed, it's still filled with a great cast, proves to be a solid watch, and comes with a dark and twisted final act which proves to be well worth the wait. Far from essential, and potentially hindered by its low budget nature, it's nevertheless worth a bargain bin buy, or a quick look when it pops up on Netflix.
Matt Wheeldon – @TheMattWheeldon.
Verdict
Buy From Amazon.co.uk
Buy From Amazon.com