Title:
Entourage
Genre:
Comedy
Starring:
Kevin Dillon,
Jerry Ferrara,
Jeremy Piven,
Kevin Connolly,
Adrian Grenier,
Certificate:
US: R
UK: 15
Picture:
1080p
2.40:1
Audio Format:
DTS-HD Master Audio 5.1
Subtitles:
English,
Danish
Dutch,
Spanish,
French. etc.
Runtime:
1 Hours 44 mins
Extras:
Featurettes,
Deleted Scenes,
Interviews,
Gag Reel
Studio:
Warner Home Video
Release Date:
USA: Sep 29 2015
UK: Oct 26 2015
See If You Like:
Entourage (TV series),
The Wolf Of Wall Street
The Boys Are Back In Tinsel Town…
11 years ago, way back in 2004, HBO spun a Mark Wahlberg-based reality TV show idea into one of the most beloved bro-mantic comedies ever to grace the small screen and now, 4 years after the show ended its official run, the boys are back with the Entourage movie; a fan-pleasing, fun-filled, romp through the excesses of a Los Angeles movie star's life; complete with money, boobs, fast cars, money, expensive things, money, loyalty, laughs, money, and boobs.
We pick up the action almost the instant the series ended; with movie star Vince (Adrian Grenier) having just gotten married (though 9 days on, at the start of the movie he's already having a post-wife party), Turtle (Jerry Ferrara) being super-rich based off the back of his tequila company, E (Kevin Connolly) expecting a baby with Sloan (Emmanuelle Chriqui), and Drama aka Johnny Chase (Kevin Dillon) still piggybacking off of his younger brother's career and success and waiting for his acting comeback to roll around; though thankfully for anyone who didn't follow the 8 seasons of Entourage on HBO, and even though the plot is exceptionally easy to grasp, we're given a brief round-up courtesy of an in-film Piers Morgan special filling in the show's history, character's backgrounds, and what's happened in the 8 months between the the series ended and the film's main plot begins.
What's happened is Ari (Jeremy Piven), former agent of Vince, close friend, and now massive studio head, has used his position to green light a $100m movie which he's let Vince not only star in, and give Johnny a pivotal part, but also direct (a huge step and risk considering Vince has never directed) and now, with a budget still spiralling out of control and pressure coming from studio executives Ari is forced to try and source more money from the film's backers; an obscenely wealthy father/son team played by Billy Bob Thornton (Bad Santa) and Haley Joel Osment (The Sixth Sense), who're not exactly thrilled with the way Vince's unfinished project is turning out.
Yet, the big movie/money story is only the backbone of the Entourage film, as each character has their own mini-arc to follow; E, clearly still pining for Sloan (they split during the show's absence), is having relationship issues with his latest girlfriend; Drama's still struggling for success, and his latest 'romance' ends up leading to some of the film's funniest moments; Turtle is unsuccessfully attempting to start a relationship with professional MMA fighter and Furious 7 star Ronda Rousey; and Ari (as well as struggling with the movie's money troubles) is not only facing the prospect of being fired if Vince's movie tanks, but is still rebuilding his marriage, trying in vain to stop work stresses affecting his marriage, and also being asked to give away his ex-assistant Lloyd (Rex Lee) at his upcoming wedding.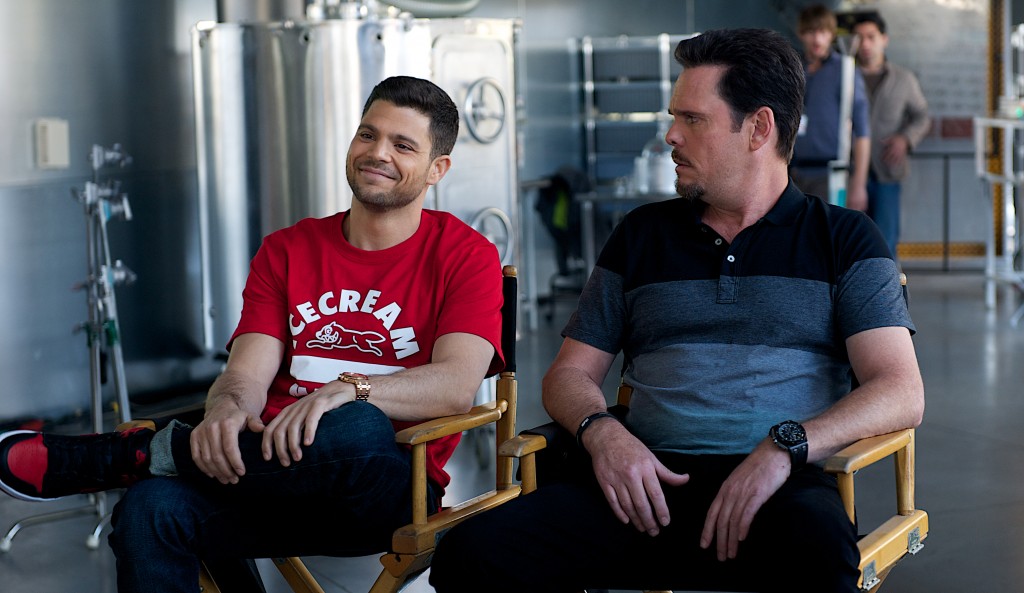 So, there's plenty going on in the Entourage movie then? Well, not really. Not only is Vince still basically irrelevant (as he was for much of the series) and difficult to care for, but most of the plot elements lack depth, design, and direction; completely irrelevant things are often thrown, and forced, in for cheap laughs, adding nothing to proceedings or character development; a prime example being everything that happen's to E – his unbelievably predictable journey turns possibly one of the show's most realistic characters into yet another cliche, as it seems he and Sloan (who ended the series on a high) were only split in order to him to have something to do here (having an awkward timing dating multiple beautiful women – woe is E), where a more grounded relationship-based journey building towards his upcoming parenthood would've served both the character and film better.
Entourage also suffers from many of the factors which plague TV shows making the jump to the big screen, as while the writing failed to go bigger (instead blowing the budget on classless cameos and expensive baubles to use as throwaway props) Entourage merely feels like another season of the show; albeit condensed into an hour and a half runtime, and losing all emotion and development along the way.
Still, there are positives (and plenty of them) as the comedy is still there (albeit rushed, and often fleeting); an impossibly awkward lunch for E, unwanted publicity for Drama, more ranting/meltdowns from Ari, and Turtle stepping into the ring with Ronda all bring the laughs; the irrelevant cameos, which form a Generation Game style conveyor belt/parade of recognisable faces including everyone from series favourites Billy Walsh (Rhys Coiro), Gary Busey, and Bob Saget, to Jon Favreau, Pharrell, Emily Ratajkowski, Jessica Alba, Kelsey Grammar, Liam Neeson etc. etc. etc., are mostly smile-inducing and produce some of the film's best one-liners (seeing Frasier grumble about therapy, and having Ari make a Schindler's List joke towards Neeson being two personal favourites); and the whole movie takes fan-servicing to a whole new level.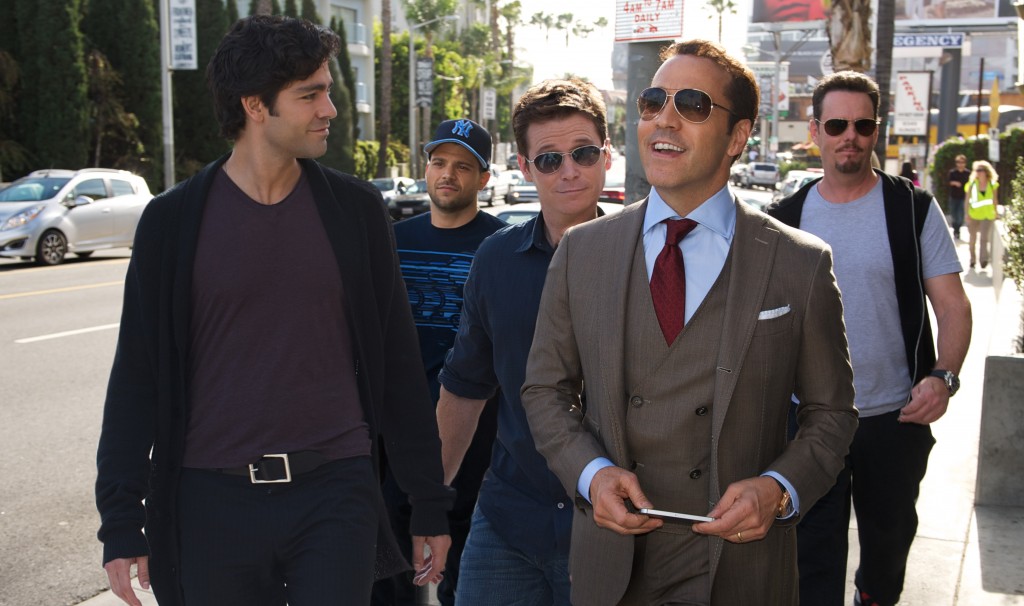 There's no conceivable reason fans of the series wouldn't enjoy the Entourage movie, because not only does it get the band back together after what feels like forever, we now finally get to see Vince, Drama, Turtle, E, and Ari up on the big screen. Not only that, but we're rewarded for our patience with classic and expected cameos (of course Wahlberg turns up – and hangs around for too long), amusing new ones, and just enough in-jokes and nods back to the series to make it enjoyable; we get to see Drama make breakfast and ogle other dude's calf-muscles, have references to Turtle's weight loss, an updated version of the classic into (with the proper soundtrack – Oh Yeah!) and car, and even the use of several shots and songs from the original soundtrack dating back to the very first episode.
Sure it's shallow, predictable, and sadly reminds us we never got to see Entourage Season 9. It's also sexist, consumerist, underdeveloped and even offensive to some viewers, but a film about money, fame, boobs and bros is supposed to be loud, brash, sexist, consumerist, and fun; it's a window to how the other half live; an amusing money-fuelled ride which is bound to be the envy of many a young man. We're here to gaze into Hollywood, to swoon at the lifestyle of movie stars, and Entourage lets us do that by constantly reinforcing the holy-trinity of models, money, and mates, and giving us plenty of laughs along the way.
If you're looking for hard-hitting entertainment – look elsewhere. If you're looking for gritty drama – look elsewhere. If you're looking for believable romance – look elsewhere. However, if you're looking for a superb swan-song to a beloved pop-culture TV series; a fun, easy to watch, comedic ride; one that'll make you laugh and smile without having to engage too much – then look no further. It's easy for newcomers to slip into, a wondrous completing of the circle for long-time fans, and a great afternoon fluff film. Recommended, but not essential (unless you're an Entourage fan).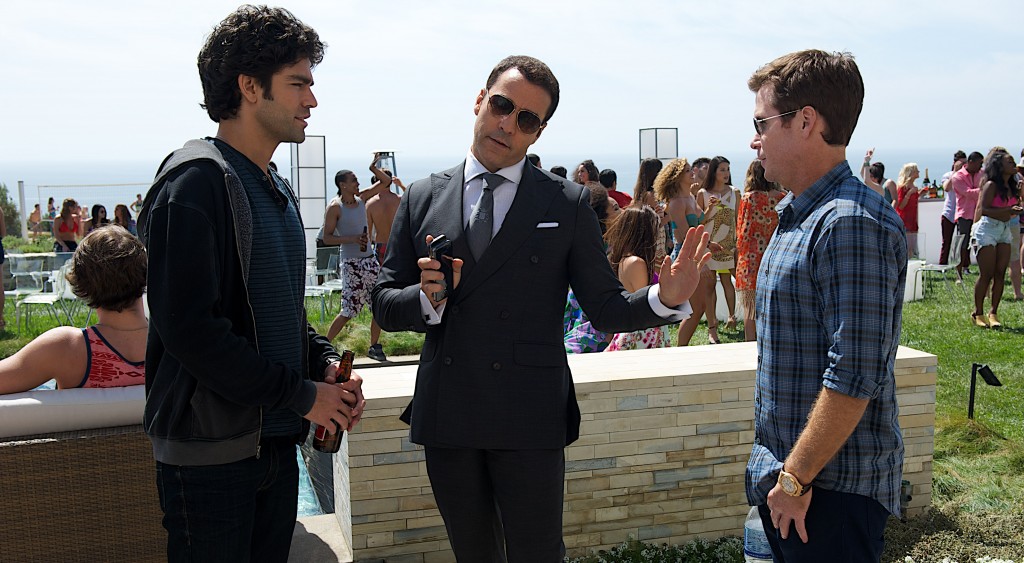 Picture:
Despite having an overly warm palette which pushes skin tones into an almost unnatural orange look (though this is California – maybe it is 'natural'?), the overall quality of the image is extremely strong and stable; there is zero excessive noise, aliasing, or banding to be found, no print errors or scratches; and as the film comes to Blu-ray with strong black levels, decent colour representation, and a fantastic level of fine detail, this is a very strong (though somewhat warm) visual presentation.
Audio:
Likewise Entourage's 5.1 DTS-HD Master Audio soundtrack is surprisingly impressive, and often very in-your-face; the bass-laden music never disappoints, ambient effects (including that of crowds – observed best at various parties) are natural and unobtrusive, and dialogue remains well prioritised and anchored in the centre. While there's little cause for showy transitions and effects here, what there is works incredibly well, and there's a strong range exhibited which means you won't be disappointed with this mix.
Extras:
Consisting of a gag-reel (of fairly standard quality), a selection of deleted scenes (which prove worth the watch, despite being rightfully cut), and three featurettes; focussing on the making of Vince in-film movie Hyde (a decent fluff piece delivered in-character), the progression of Entourage (where creator Doug Ellin and the Entourage cast discuss both the appeal of the TV show, and it's journey to the big screen), and the film itself (featuring cast and crew interviews – including Mark Wahlberg – discussing how they upped-the-bar for the film, in an acceptable but all too EPK-like feature); the special features awarded to the Entourage Blu-ray are enjoyable fun, but not too extensive (much like the film itself).
The Bottom Line:
With decent picture and sound quality, as well as a selection of enjoyable and easy to watch bonus materials, Entourage makes for a solid Blu-ray release; not least because it's the best way to revisit and finalise a fun-filled TV show we loved for seven long years.
If you didn't like the Entourage TV show, then the movie obviously isn't going to be for you, and sure it has its problems anyway, but for any fan of the series this is a must-buy; an excellent continuation of the journey, a sublime swan song for Vince & co., and a brilliant exit for the gang. The boys are back, they're on the big screen, and they've returned to entertain longtime viewers with a FANtastically fan-pleasing effort, and FANciful finale that's not to be missed.
If you liked the show you'll like the film, and if you haven't seen the show… start here
.
Matt Wheeldon – @TheMattWheeldon.
Film:

Buy from Amazon.co.uk
Buy from Amazon.com

Video:

Audio:

Extras:

Overall: