Title:
Lost River
Director:
Ryan Gosling
Starring:
Christina Hendricks,
Iain De Caestecker,
Ben Mendelsohn,
Matt Smith,
Eva Mendes
Genre:
Drama/Fantasy
Runtime:
1 Hour 35 mins
Music:
Johnny Jewel
Studio:
Warner Bros
Certificate:
US: R
UK: 15
Release Date:
US: April 10 2015
UK: April 10 2015
See If You Like:
Mulholland Drive,
A Place Beyond The Pines,
Ryan Gosling's (The Notebook) directorial debut Lost River has taken a lot of beatings. Slammed with ridicule and painted as a rotten mess after it's screening at the Cannes Film Festival in May 2014, it seemed the film had been branded a failure long before release – but does it deserve the bad rep?
Taking us on a surreal journey through a modern day fairy-tale, Gosling's original story follows single mom Billy (Christina Hendricks, Drive) and her teenage son Bones (Iain De Caestecker, Agents of Shield) as they try to pull their lives back from financial troubles. About to lose her family home, Billy takes a back door job offer from bank manager Dave (Ben Mendelsohn, Animal Kingdom) at a secret sadomasochistic club. After watching the star of the show, Cat (Eva Mendes, Hitch), in action mimicking death and mutilation, she agrees to her own macabre piece and begins her strange & bloody performances for a rich, male crowd. Meanwhile, her son Bones is in trouble with the town's local violent psychopath 'Bully' (Matt Smith, Doctor Who), for selling-off scavenged copper on his turf. After discovering there may be more to the town's history than they thought, he and girl next door 'Rat' (Soarsie Ronan, The Way Back) try to uncover the mystery behind Lost River, it's secret underwater sister town & the curse that keeps them all trapped in a cycle of poverty and violence – before Bully makes an example of him.
The first thing that's easily tempting to say is that this film has a case of style over substance, but there is more to it than that. Gosling is obviously trying to say something with this movie beyond the visual spectacle (and it certainly is, in places, visually spectacular) – most prominently in the use of a Detroit-esque setting and scenes of crumbling destitution. The trouble is, it is incredibly difficult to connect with the characters or their struggles when the plot descends so deeply into madness that it is increasingly difficult to maintain a handle on what is going on. By the films end you will undoubtedly be scratching your head in confusion and bewilderment at the direction of what is tentatively referred to as a plot.
On paper, the cast seem like an interesting mix – but they are almost all wasted. Newcomer Iain De Casestecker plays a likeable protagonist with just enough hopeful innocence to stop the film from descending into nothing but dark and seedy, but he is lost between the unusually bland performance by Christina Hendricks as the rather wet and easily lead mother, and the over the top eccentricity of Matt Smith's villain. The supporting characters also have little to contribute, and feel more like after thoughts added into the plot so that more actors could be involved (especially Mendes, who worked with Gosling on A Place Beyond the Pines)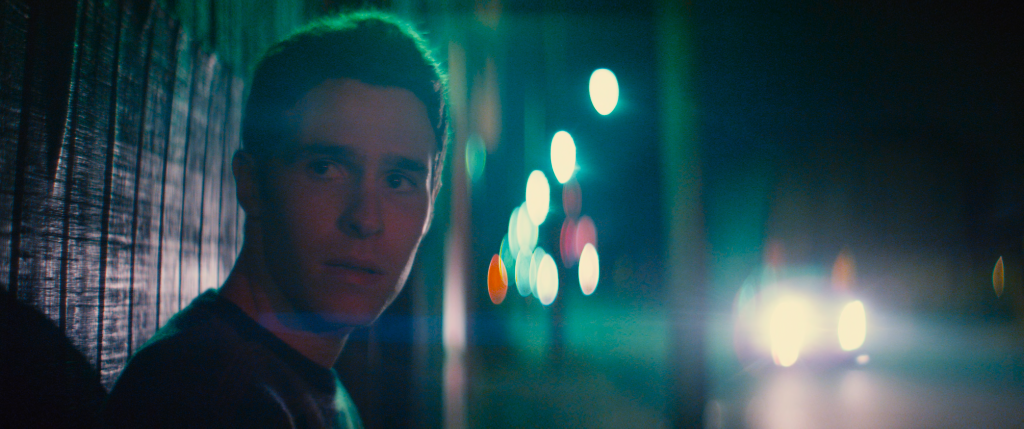 The script has moments that touch on the poetic but mostly it stays within the realms of the pretentious – leaving only the intriguing cinematography by Benoît Debie (Enter the Void) and eerie soundtrack by Johnny Jewel (Drive) to carry the film – and it's simply not enough to make it a success. Like with many misfires in the indie genre, it often feels more like a music video or a slideshow of images to music, than a story telling experience.
Overall, it's a weirdly fascinating film to watch, and it is unapologetic in its ambition to present something surreal and darkly evocative akin to a film from David Lynch's repertoire. It's a passion piece, and obviously a style of film making Ryan Gosling both enjoys filming and watching.
There is a spark of something likeable in the mix, and perhaps a sign of better things to come, but it fails to stand up as a successful experiment into the bizarre.