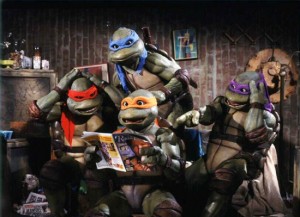 While it may come as a bit of welcome news to many a fan who disapproved of the planned changes to their beloved childhood franchise, news has recently broken that the planned big screen live-action reboot of the Teenage Mutant Ninja Turtles movie has been delayed, due to script issues.
Due to be directed by Jonathan Liebesman (Battle Los Angeles), and produced by Michael Bay (Transformers), the new Turtles movie was pencilled in for a projected December 2013 release, but has since had that date pushed back to May 2014, in the hopes that someone can come in and tidy up the apparently awful (according to the rumour mill) script in time for shooting to begin next year.
Matt Wheeldon.
Source: The Hollywood Reporter.