Title:
The Revenant
Director:
Alejandro G. Iñárritu
Starring:
Leonardo DiCaprio,
Tom Hardy,
Domhnall Gleeson,
Genre:
Drama, Action, Thriller
Runtime:
2 Hours 36 mins
Music:
Bryce Dessner,
Carsten Nicolai,
Ryûichi Sakamoto
Studio:
20th Century Fox
Certificate:
US: R
UK: 15
Release Date:
US: Jan 08 2016
UK: Jan 15 2016
See If You Like:
Jeremiah Johnson,
The Edge,
Seriously, bring a jacket – this film is that damn cold
Whoever schedules the Awards season releases really did an amazing job this year with both Hateful Eight and The Revenant coming out with a week or so of one another. Both are western-based film sets in a more colder climate than your traditional sunnier southern outings. While Hateful goes the route of a Quentin Tarantino-directed cabin fever "epic", Revenant brings together last year's Oscar golden boy Alejandro G. Iñárritu (of Birdman fame) and Best Actor nearlyman Leonardo DiCaprio (The Wolf Of Wall Street) in a beautifully shot environmental survival film with cold, hard, bloody revenge on it's mind. With 12 nominations at the Academy Awards for 2016 alone, it's hard to dispute why the Oscars are onboard this magnificent film.
It's the early 1800's and a military-backed group of frontiersmen trappers in the untamed, wild wilderness of wintery Louisiana are hunting for pelts. After an ambush by a Native American tribe called the Arikara that decimates the group, the most experienced guide, Hugh Glass (DiCaprio), tries to steer the survivors and whatever pelts they can salvage back to a safe camp. However, Glass comes across a bear and is forced into a fight with the grizzly animal. He survives but is near death, thanks to brutal injuries.
Captain Andrew Henry (Domhnall Gleeson, Star Wars: The Force Awakens) tasks Glass' half-Native son Hawk (Forrest Goodluck is his first feature film role), another guide Fitzgerald (Tom Hardy, Mad Max: Fury Road) and a young trapper Bridger (Will Poulter, The Maze Runner: The Scorch Trials) in caring for Glass until he dies naturally and giving him a proper Christian burial. Impatient, Fitzgerald attempts to smother Glass to end his suffering, only for Hawk to interrupt the deed. After killing Hawk in a panic, Fitzgerald lies to Bridger about approaching Arikara and the pair leave quickly, leaving an aware Glass for dead. Glass recovers though and seeks about crossing the frozen wasteland to extract revenge on Fitzgerald for murdering his son in front of him.
Western doesn't quite feel the right term to define The Revenant when it is far & away from the traditional warm, sun beating climate, yet it shoves trope themes of survival and revenge at the forefront making it authentic. Iñárritu takes time to fully embrace the era of frontierism in a raw and brutal depiction of the era. If you don't pull your weight or keep your guard up at all times, you're more than likely to last as long as you could with an arrow in the your head. Hunting for pelts is backed by military forces to provide safety from Natives and other territorial forces. With the dangers of nature and the Arikara at their heels, you can hardly dismiss Fitzgerald's move to end Glass' suffering so he and the group can move on as a cowardly act. When a French survivor turns up at the largely British camp after escaping an Arikara attack, he's pretty much stripped of anything valuable before allowed a hot meal. The raw elements of brutal lifestyle we see are probably the most accurate to the era for a long time in cinema. My memories of heroes like John Wayne riding off after showing the bad guy mercy before being forced to shoot a rustler have been shoved out for this harsh, uncompromising reality that Iñárritu displays here.
The colder climate is the backdrop to some stunning cinematography. Gunning for his third Oscar in a row, cinematographer Emmanuel Lubezki (Gravity) reunites with Iñárritu for a second film running to pull off yet another impossibly lush capture of the frozen wastes. The near-continuous shots return again from Birdman, with understandable cuts to jump to different characters & plot points in a jarring but adjustable style. It was hard to see the points in action sequences where the camera stops before we move to another death or blow. That opening ambush just keeps going & going, with an impressive hit rate that never obviously stops. The many sweeping camera movements that pan 360 degrees over an object like a gun barrel or a horse never get old. I love the juxtaposition of negative human traits of revenge & brutal nature combining against the quiet, lovely, gorgeous backdrop of the wintery wilderness. Being set in about 95% snowy conditions, The Revenant perhaps unwittingly send a chill through you as the feeling of cold translates from the screen to your actual person.  Just like Birdman, Iñárritu & Lubezki craft a visual tour de force that this time contrasts the bleak and the beautiful of the characters and setting.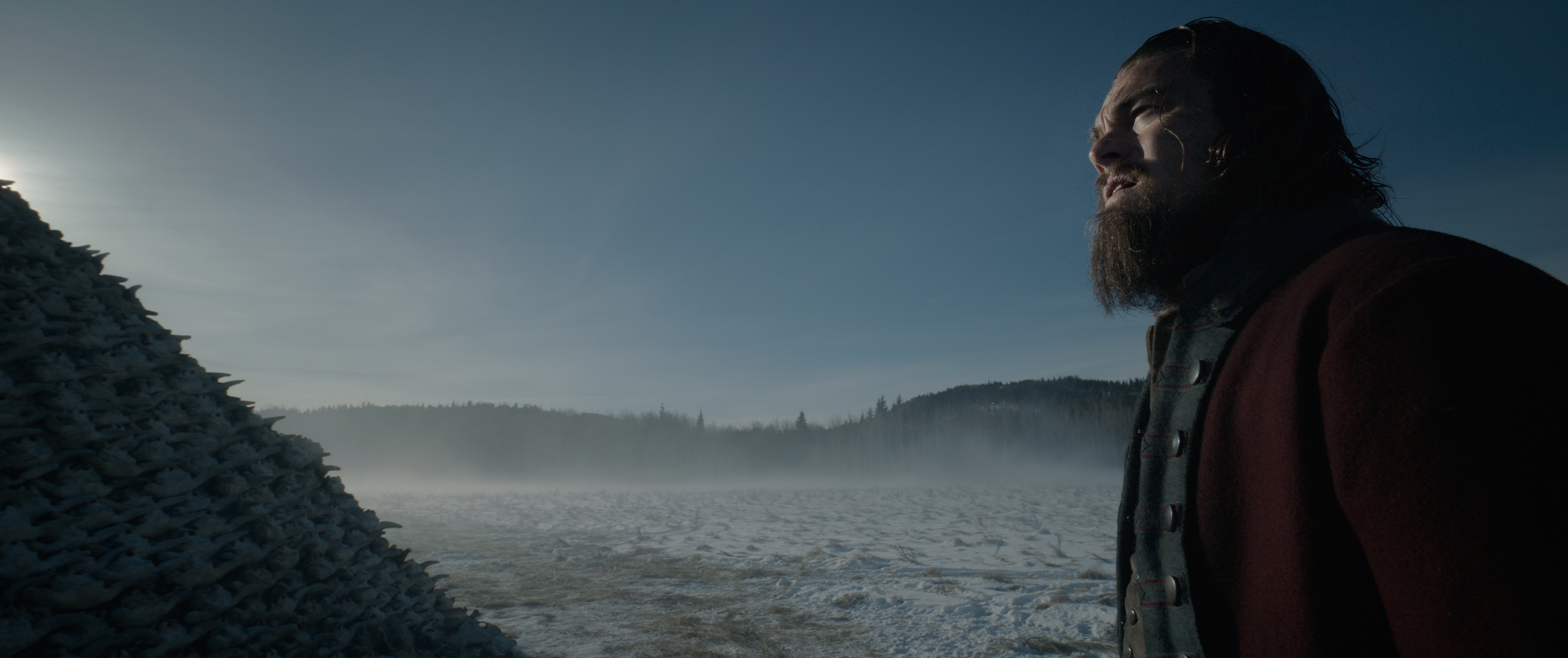 The Revenant gives Iñárritu to have a go at some action set-pieces which he does with much abomb. The opening Arikara raid rivals Saving Private Ryan for sheer bloodiness with bonus violence & multiple gruesome arrow shots that wipe out those unlucky enough to stick their head out. The epic finale is a little on the short side but immensely satisfying after the journey with go on with Glass. The main event of Leo fighting that damn grizzly is well worth the price of a cinema ticket though. Whilst the CGI is the best it could be yet kinda unconvinces, seeing DiCaprio act his socks off at every tear, every claw, every cut onto his person is a wonderful sight. You could be forgiven for thinking that they allowed a real bear on top of him in practice just so he could get in the zone. Playing for dead to buy him an advantage would be an accurate tactic to use in such a situation and the time of the fight on reflection is just right – not overlong spoiling the spectacle and not so short to rush proceedings. A bloody, awe-drawing sight which is what 2016 needs to kick off with a bang.
Hardy as Fitzgerald is a highly effective antagonist for our story. It's not so much the action to end Glass quicker than expected when he's going to die anyway, but the blind panic of others not seeing his side that leads to performing horrible actions. There's a scene where Fitzgerald wrestles a gun off Bridger as he starts to put two & two together over their sharp exit. Hardy puts so much menace behind his delivery about taking chances to his poor kid before pulling the trigger himself only to find it's improperly loaded. He then casually tosses the gun back to Bridger, no longer seeing him as a threat, picks up his own gear and casually goes on about his day. The sudden gear change may sound jarring but it's handled so well and takes Fitzgerald to new lows that you can't help but love Hardy's performance. Certainly deserving of his Best Supporting Actor nomination at least. Poulter continues to add to a list of impressive engaging performances as the conflicted yet sympathetic Bridger who gets stuck between a rock and a hard place by the film's end. Gleeson does not let himself down and ties a new string to his bow as the put-upon Captain. Whist certainly not a big focus, his delivery of the lines towards the end about not remembering what his wife looks like is heart-breaking.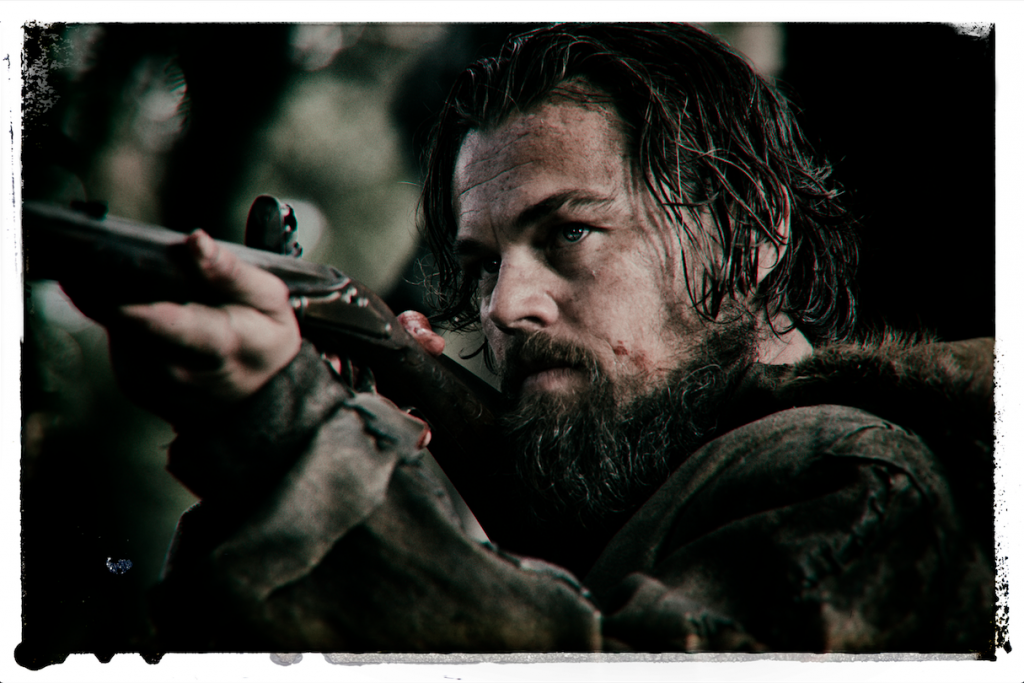 The grizzly bear in the room is whether Leo can finally do it – can his performance finally land him that Best Actor nod that he desperately craves? Simply for the physical torture that he goes though, it's  a resounding yes for me. A man not above bleeding for his art (see Django Unchained), the punishment that he as an actor goes through with the legitimately freezing conditions & the exertion of cutting up a horse for shelter from a blizzard (yes, really) marries with the emotional drive as a character of raw, blinding revenge, as a man on the verge of death goes to the seeming ends of the world to get what he craves so much. An easy vehicle maybe for DiCaprio in awards season but he is the driving force that draws you in with a down-to-Earth heart that you want to see through. He does so much in a good three-quarters dialogue-less  amount of screen time with grunts, drools and wheezes in a poor state of health, that this undeniable commitment to go above & beyond in a simple tale deserves recognition.
With some critiques of his earlier work of Iñárritu's output being emotionally stinted, I certainly did not feel that at all as DiCaprio really makes some emotive moments. As Glass drags his soil and blood coated body over to a lifeless Hawk, it's hard not to feel anything but pity & sympathy for his poor soul who has seen literally his only reason to live anymore in his uncompromising world taken away. It is an easy enough plot to make you want to see Glass extract revenge on the monster that killed his son, but DiCaprio elevates it to a salivating level – you are desperate to step onto the screen yourself to brave the cold, the wet and the danger to go on his exhausting journey to seek justice.
Whilst other films out in awards season have become nearly a chore to sit through their over-bloated runtimes, The Revenant does not suffer from such a problem. Despite being the most ultimate of endurance tests committed to film as Glass braves icy rapids, gun shots, the cold, arrows and his decreasing health, the long runtime does not overbear at all with no single frame of film wasted. Every drop of blood – human or animal – adds to the mood, every freezing drop of snow adds to the atmosphere and every frozen breath adds to the transcending exertion to audiences. There is literally nothing physical and natural that doesn't enhance this film tenfold. Credit too to Iñárritu for throwing in some neat cuts like a shot of a deep breathing character before cutting to a lovely landscape shot as the gasps of breath continue.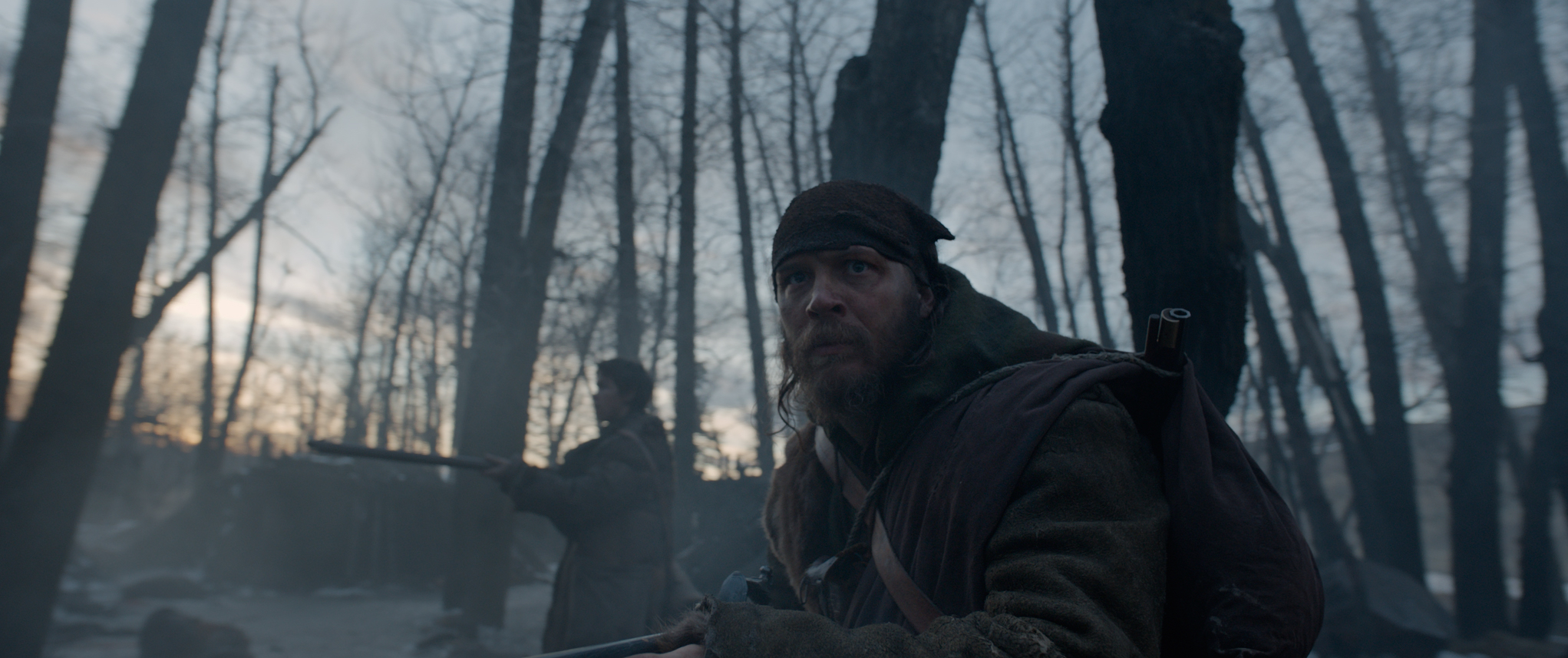 There really isn't too much criticism I can level at Iñárritu or The Revenant to be honest. With a commitment to filming as practical as possible, the use of CGI is kept to a minimum apart from the obvious exceptions. Mind you, despite managing an impressive looking CG avalanche, the tech department let themselves down with an awfully fake looking snow cloud that is obviously super imposed. Similarly, an impressive buffalo stampede that Glass catches his eye on is let down by the same problem with a group of wolves attacking a sole buffalo standing out badly. A compromise maybe to the otherwise perfect practical side of the film making and certainly nit picking at worse. I can appreciate how tough the conditions were for filming so I can also easily forgive the obvious re-dubbing of certain Native American actors too.
Literally the coldest film you're like to see at least the rest of this decade, The Revenant is Iñárritu's marriage of the bleak yet beautiful unspoilt nature of it's setting against the determined uncompromising temperament of humanity. A wonderful juxtaposition that sets up the ultimate gauntlet of a man seeking bloody & painful revenge as Leo finally lays it all on the line physically in his quest to get to a rewarding Hardy – all filmed with the unashamedly astounding cinematography of Lubezki. A mission of intent from start to finish, Iñárritu has done it again.
Verdict:

Buy from Amazon.co.uk
Buy from Amazon.com