Title:
The Salvation
Genre:
Western
Starring:
Mads Mikkelsen,
Eva Green,
Jeffrey Dean Morgan,
Eric Cantona,
Certificate:
US: R
UK: 15
Picture:
1080p
2.40:1
Audio Format:
DTS-HD Master Audio 5.1
Subtitles:
English.
Runtime:
1 Hours 32 mins
Extras:
Featurettes,
Audio Commentary
Studio:
Warner Home Video
Release Date:
USA: Aug 04 2015
UK: Aug 24 2015
See If You Like:
The Good The Bad & The Ugly,
Django Unchained.
While still in mourning for the demise of Hannibal, there's no need to worry for the stellar cast. Not one bit. After his stunning turn as Dr. Lecter, Mads Mikkelsen will do fine playing upper level bad guys with a spot of class for a good long while, but interestingly he hasn't ditched his Danish acting roots; turning up fairly regularly in their cinematic offerings with interesting roles. No Hannibal fanboy could say no the irresistible charm of seeing Mads taking on a cowboy film backed by Danish film production studios though,  whilst not without it's moments, the end product that is The Salvation leaves a near-satisfying, yet seen it all before, take on the worn 'brutal cowboy' sub-genre.
After many years away from his wife and son, a Danish settler in 1870's American called Jon (Mikkelsen) is looking forward to introducing them to his new way of life in the wild west, along with his brother Peter (Mikael Persbrandt, The Hobbit: The Battle of the Five Armies). However, fate intervenes and the pair are brutally murdered by drunken bandits on a stagecoach ride after Jon was booted off. Jon takes his revenge on the pair, but catches the eye of a savage cowboy & gang leader named Delarue (Jeffrey Dean Morgan, Red Dawn) as Jon killed his brother. Through many trials and tribulations, whatever is left of Jon's life is taken & beaten away but he makes a final stand to end the destruction and corruption Delarue & his crew bring to his new homeland.
The main problem with The Salvation is you're tripping over trope after trope of the western/cowboy genre to the point of irritation. The plot itself is rather A-to-B-to-C with numerous treacheries and a man getting his entire life and soul being wiped out, only for him to make a comeback just 'cause he's a hard so and so. It's fine, but there is next to no originality here in terms of plot points. The various individual action and character moments are fine and make it a worthwhile watch but the plot just came across as bland, with no innovation. Without being disrespectful, it's difficult to see the point of making the effort and doing a genre movie, where all you're doing is paying homage to aspects of it, without putting any new spin. Sure, who doesn't love the film style of Sergio Leone & John Ford, but pure homage is not enough to make a film stand on it's own legs without anything else to say.
Individual characters were interesting however. Dean Morgan has that glint and whiskered bad guy cowboy down to a tee, yet there's a bit more to him than your usual one as he enjoys a spot of corruption, being hired by local businesses to drive down land prices. You get what you pay for when you get an awesome character actor like Dean Morgan in, and he doesn't disappoint at all. Despite being the most high profile female character in The Salvation, Eva Green's (Sin City: A Dame To Kill For) mute widow of one of the bandits Jon slays at the start won't do much for a positive turn on feminism power in this day and age, as she's broken to hell; having her tongue ripped out by Indian savages and rape beatings by Delarue make her a sympathetic yet forced character, but Green does quite well with her physical performance to display a roller coaster of negative emotions. Being a fan of character goons, 10-out-of-10 for the badass moustached glasses one as part of Delarue's gang who gets the best death in the whole film. Also, The Salvation is notable for the sheer insanity of former soccer maverick turned actor Eric Cantona appearing as the lead French henchman – if you're into seeing a man who can't act apart from playing himself.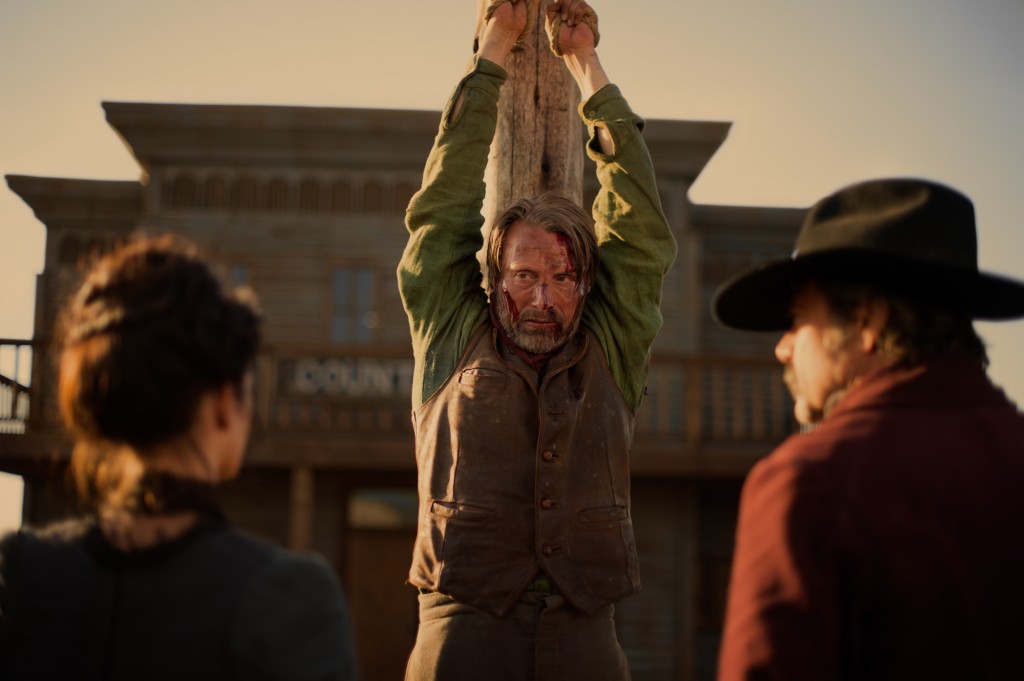 But what about Mads? Well, he's fine… and that's all there is to say. His motivations for revenge are over fairly swiftly as he avenges his wife and son quite quickly in the runtime. He keeps going and suffers a bit more loss but it's hardly on the same level when your family is ripped from you and after you sorted out those bad lads it's job done really – there's no more levels to go down. Admittedly that's a character and plot problem and Mads is superbly stoic and grimacing throughout. The coldness he displays when he slays his wife's murderer is chilling. I just wish there was a bit more than the faulty character motivations that Jon goes through most of the film.
Possibly coming across as a tad more negative than intended, The Salvation is far and away from being a bad movie. It's as tall in the saddle as any modern day cowboy movie, but there's hardly anything to make it a true stallion of the genre. As well as weird plotting and stereotypes out the kazoo, some of the CG looks terrible. The fire effects towards the end are reminiscent of similar flames from a Playstation One video game, and that final credit zoom out is unbelievably bad. However, apart from that, the rest of the flick is polished up to a slick and stylish level that does make The Salvation a worthwhile bite of the western pie before The Hateful 8 comes along.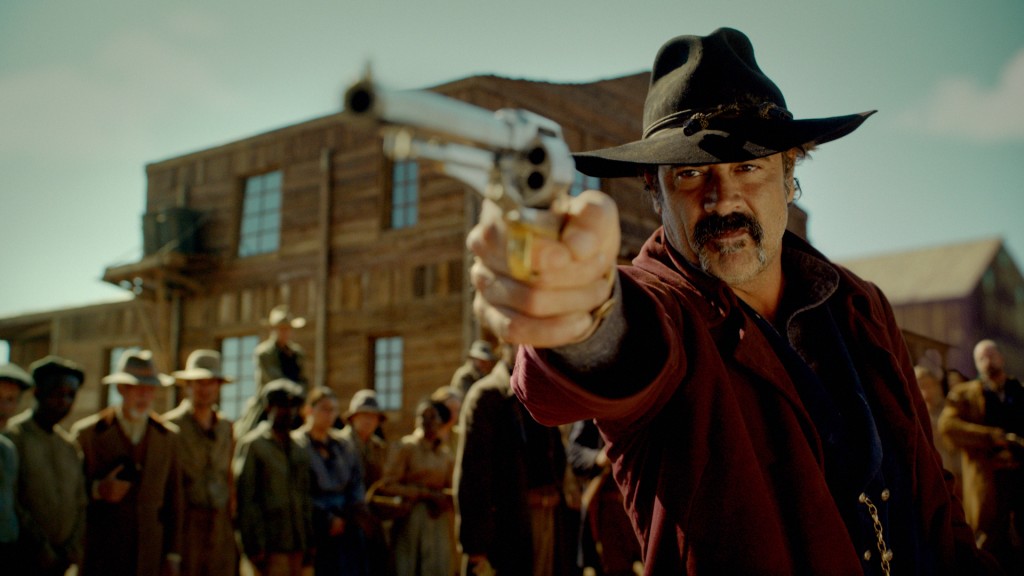 Picture:
Filmed digitally, the transfer to Blu-Ray makes for a pretty experience. You can spot easily where backgrounds have been touched up to highlight time of day scenes more for better moods. The night time chase of the stagecoach by Jon is superbly bleak and blackwashed. The setting of this corner of the wild west is painstakingly accurate with the rich browns of ground and wood dominating daylight scenes. The detail in the set design is obvious, although some of the digital touching up masks it in different shots at the same locations. At certain moments the digitalisation of capturing used in The Salvation loses some of the rich textures that the filmmakers were going for and some of the contrast is inconsistent.  Still, not an ugly experience to watch by any stretch of the imagination.
Audio:
Personally, the film's score flew right over me as I became more numb as it wore on after it reminded me too much of the music it was emulating but it was a reasonable pastiche. The mese en scene is built up terrifically with some cracking dialogue mixed in with numerous whip cracks, rope straining, gunshots and horses galloping about. Some tidy wind effects usage is a crafty bonus in specific scenes as well, without overriding character speech.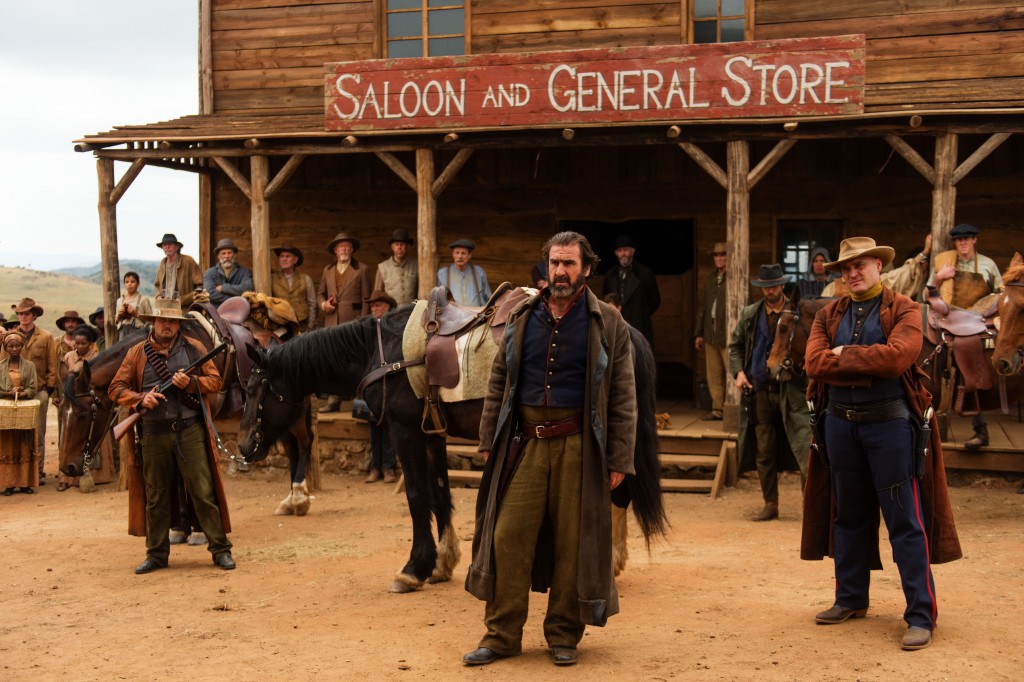 Extras:
A crying shame. Just some short interviews with cast and crew on various aspects. Despite the fact my choice goon gets his own chapter, it's like a minute long even though the behind the scenes to his death scene is cool. Shame really, as the between takes interview style as numerous cast members are sat just off-camera is a neat visual.
The Bottom Line:
Far from being a letdown or a disappointment, there's no real shakes to make The Salvation a must watch cowboy film purchase on Blu-Ray. The film itself packs a punch but it's a punch you've seen thrown before time after time. The lack of in-depth extras highlights the real lack of a point of making this film apart from just doing a western with Mads for giggles. The lack of any real innovation is not a determent from an brutal yet enjoyable cowboy flick,  but then there's nothing to prolong it in the memory, even with the nice digital visual presentation. Shame really as you have to look at The Salvation as 'wait for it to go cheap' material.
Film:

Buy from Amazon.co.uk
Buy from Amazon.com

Video:

 

Audio:

Extras:

Overall:
Images courtesy of Warner Bros. Home Entertainment.
©2015 Warner Bros. Entertainment Inc. All Rights Reserved.