Title:
Straight Outta Compton
Genre:
Biopic, Drama, Music
Starring:
O'Shea Jackson Jr,
Corey Hawkins,
Jason Mitchell,
Paul Giamatti,
Certificate:
US: R
UK: 15
Picture:
1080p
2.40:1
Audio Format:
DTS-HD Master Audio 5.1
Subtitles:
English, French, Dutch, DVS,
Runtime:
2 Hours 26 mins
Extras:
Featurettes,
Deleted Scenes,
Audio Commentary.
Studio:
Universal Pictures UK
Release Date:
USA: Jan 19 2016
UK: Jan 11 2016
See If You Like:
Notorious, Boyz n the Hood
With awards season about to kick into overdrive – with an embarrassing flood of contenders being released in the UK on the big screen at the same time annoyingly – it's the right moment for those flicks hoping to scoop some gold to remind viewers of their calibre with home media releases. Having sailed right passed me last summer for one reason or another, the buzz for Straight Outta Compton, a musical biopic about the creation and influence of notorious hard gangster rap American group N.W.A., was so irresistible that I have been craving the release of this on Blu-Ray over other releases at the cinema this month. With the eye of original members Dr. Dre & Ice Cube themselves on production, 'Compton is an authentic yet biased story of Boys from the Hood making it big before heads clash in a dramatically confident piece of film making.
Mid 80's Compton in Los Angeles County, California is a haven for gang crime & drugs, as a world far & away from the rest of the pop electronic music scene for the decade. Young rappers Ice Cube (O'Shea Jackson Jr., real life rapper son of Cube himself), Dr. Dre (Corey Hawkins, The Walking Dead) & Easy E (Jason Mitchell, Major Crimes) band together with collaborators to produce on a runaway popular single, which highlights no messing hard hip hop straight from the hood of Compton. Their raw talent catches the attention of manager Jerry Heller (Paul Giamatti, San Andreas) as the rise of the N.W.A begins with the release of the essential Straight Outta Compton album. With numerous run-ins with the Police over the controversial F*** The Police song, the group quickly becomes a powerful voice for the harder element of late 80's/early 90's hip hop, as well as downtrodden African Americans. With the price of fame & money hanging over the group's head, numerous fallouts begin over the strain of contracts and finances, leading to the fall of the supergroup.
Straight Outta Compton itself focuses more on the human element of the group instead of the actual music. As the plot lurches forward, the events come across as organic and believable. With a larger than life group like N.W.A. possibly having the whiff of implausible about them, director F. Gary Gray (Law Abiding Citizen) anchors points with a realistic grit to proceedings as the musicians featured represent a refreshing honesty in their lives. From a difficult beginning in a gang ridden shithole to the top of the world with money and hoes, the actual story of 'Compton has been seen before but it's the style and charm of seeing these committed boys standing up for what they believe in as a voice. The background slow burn of the Rodney King trial and the collapse of order in the Compton area is a representation of the racism that plagued the area that N.W.A. stood up to. The iconic scene of how the group stand up to a gang of police officers (which influenced F*** The Police) is dripping with tension over how racial clashes can boil over at any moment. There is an effort to present the N.W.A. as real as possible, with not too many notions that it was marketing that helped propel them as the most notorious group on Earth. Of course the matching threatening black and white street garb makes for an easy identity but what it represents is not dimished. Although the plot goes out the window as way too many subplots strangle each other for airtime, with numerous secondary characters walking in & out of the film from other rap labels, the first front loaded hour and half of 'Compton is more than enough to keep you enthralled through it's sheer brute force stylisings until the emotional climax at the end that ends the story of our heroes on a high note at least.
Gray goes beyond the usual rinse/repeat biopic plotlines by adding to the impact of N.W.A. Before the group start working together, we see what music was like in the mid 80's with electronic & pop being the order of the day in clubs and in the local environment, reminding you of how much of a ground breaker the hard  hitting honesty of N.W.A. was. Little moments like a young Dre listening to easier going hip hop, lost in his own little world with his eyes closed, whilst he spins past an impressive collection of soul music on vinyl go  a long way to remind you of how committed he was to becoming a top musician. As the controversy grows as their rise up the charts continued, simplistic scenes like a hate mob picketing the group's arrival with a steamroller running over a pile of Straight Outta Compton albums prompt a healthy dash of humour and realism to proceedings. Whilst it may seem needless in the grand scale of the plot, the inclusion of Dre-produced acts like 2pac & Snoop Dogg remind you of how respected and talented the group were to coach and create newer acts inspired by themselves. Many biopics fall on their sword of failing to show how far an artist's reach on culture was but there is no problem of that at all here as novices will definitely leave viewings of this with an understanding of the effect that N.W.A. had on music past and present.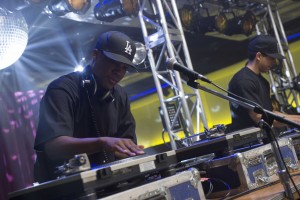 Although the emotional high points are brilliant, it's hard – very hard – as a fan of the group to dispel the ignorance towards the negative side of some of the characters featured. Dr. Dre has a history of abusive relationships towards women, yet from 'Compton, you would have thought he was just this supreme good guy who looks after everyone. Not only that, but there is a critical lack of female representation in 'Compton despite a squadron of female hip hop acts associated with N.W.A., such as J.J. Fad. Awkwardly smacks of misogyny to be honest. Despite the bittersweet ending, it's more true that Easy E & Ice Cube don't make up before his sad death. There are a couple of influential members of the group who are completely shoved to the side or written out completely. Now of course, the three featured are the most prominent and recognisable but this re-writing of history is annoying to say the least. In the end, it's a brilliant fusion of reality & fiction written by the winners that makes for an entertaining film but there's still an element of doubt over authenticity.
The real winning element for 'Compton is the casting. Now, it is a bit of a cliche that numerous offspring of those in the acting industry fail to live up to their parents' legacies but if Jackson Jr. accomplishes just one thing in his career as an actor, it is this incredible like-for-like performance as his old man. Who would have thought that Ice Cube's son would be exceptional at playing Ice Cube, I say with a wink. Just that constant angry menace in every look is spot on in every scene, it's spot on. I will be extremely surprised if he is not acknowledged with awards nominations in the near future. Whilst there was some getting used to in the earlier parts of the film, Hawkins was really nailing the later days incarnation of Dre that I'm accustomed to in an accurate portrayal. If Jackson Jr.'s performance called to channel anger, Hawkins becomes a powerful figure in his own right as the runtime climbs up. Mitchell also does not disappoint as Easy E with a scarily accurate look. The final moments of E's life are moving through  Mitchell's emotional delivery, particularly in the goodbye to fans letter he narrates. Giamatti is at his usual excellence as the carefully treading Heller who keep his cards close to his chest while he tries and keeps the boys in check.
A film which does not disappoint, Straight Outta Compton is so well done and authentic in the story that it sets out to tell that you can't help but fall in love with the N.W.A. all over again. Almost fly on the wall in capturing the mood and times of the rise of the gangster group, the style that is bolted onto the first half & beyond carries this film to essential territory. Whilst there is a doubt in the back of my mind about the washing of hands over negative aspects of the members featured and that awkward lack of female representation, I am reminded that for a Dre & Cube produced it won't be about them in the end anyway. Grey kicks all normal conventions of the bland biopic into touch as he highlights the influence and impact the group had, as well as providing a highly motivated & accurate energized cast that is enjoyable to watch through the whole run time.
Picture: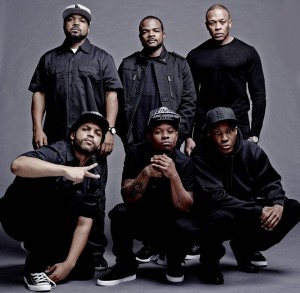 A serviceable 1080p transfer with a strong clarity to consistently reveal details. Facial make up is noticeable with little nicks and scars. Raised writing on various streetwear clothing and baseball caps sticks out, as well as individual pieces of stitching. Compton itself – inside & outside rundown housing – is charmingly worn & withered. Recording studio details like knobs and faders pop out to the point where you feel you can touch individual buttons and dials. A smashing colour palette exenterates the contrast between the Black & White style set of our heroes and numerous parties & bikinis, stage lights & album covers for a glorious presentation that goes above it's played down production budget. Similarly, numerous night scenes & low-light concerts are brooding & atmospheric until raised to a fever by the flashing red & blue of the Po-po and shine of the stage lights. Despite some minor banding in the background, a slick picture is an unexpected bonus for Straight Outta Compton that plays to it's strengths.
Audio:
Perhaps the most important technical aspect to consider when you're creating a musical biopic, Straight Outta Compton's DTS-HD Master Audio 5.1 soundtrack earn full marks. The music is the standout which is to be expected. The original score is noticeable and punctures the film with it's defining notes. Well spaced, surrounds are atmospheric whilst the bass is enveloping. You're not here for that though of course, with the various tracks from N.W.A.'s back catalogue, as well as individual and associated tracks, dominate the audio output with a real & raw experience that adds to the authenticity. The hard lyrics grabs your attention in any scene and the music flows about the audio making you feel like you're there in the recording studio. Crowd noise adds authenticity to the live concert scenes without drowning out the dominant music. The most noticeable addition is the environment details; the sirens, overhead helicopters and dogs define the gangland of Compton making it more real. The numerous party scenes contain an accurate mix of music, talk and pops. Dialogue is clear with a focus always that never dips, no matter the key background or midground music. The expectation of this aspect was high but the audio on Straight Outta Compton is so perfect on Blu-Ray, it will be a highlight for both casual N.W.A. fans and the most critical audiophile.
Extras:
An embarrassment of riches. A surprise addition of an extended cut expands the original runtime by another 20 minutes. The usual smattering of deleted scenes is supported by a bonus unused performance from the numerous concert scenes. A bumper selection of short featurettes expand on aspects of casting, pre-production & history of the N.W.A., with members involved in the production of Straight Outta Compton popping in to discuss the making of the film, their cultural impact and notoriety. Finally, Gray contributes an insightful and engaging commentary track which he discusses his long history with members of the group (from directing music videos and Ice Cube's first self-written film Friday) as well as the technical side of the film. Possibly the highlight is seeing an over-zealous fan extra bumrush the stage mid-performance for real before she's carted off and the whole cast laugh it off as Gray encourages the crowd of extras to wave & say goodbye as she's kicked out of the arena. Excellent.
The Bottom Line: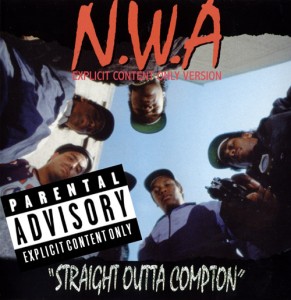 Considering the usual obvious suspects are rolling out on the big screen this time of year, Straight Outta Compton is a fantastic attention grabbing release on Blu-Ray. Easily a rewarding purchase with top draw picture & audio quality with a superb batch of extras, the rags to riches to gangster falling outs of the N.W.A. is a marvellous tale to revisit in an authentically real production, helped by the men who made it possible through their own talent. Despite some glaring omissions, you will be hard pressed to find a rich biopic adaptation such as this that captures the impact of it's subject matter, in a gritty real style not usually seen. This will be a strong contender in awards season in terms of performance and direction, so even if you're not the biggest gangster rap fan in the world, you owe it to yourself to experience what one of the most alternative picks for this year's pool will be. Must buy.
Film:

Buy from Amazon.co.uk
Buy from Amazon.com

Video:

Audio:

Extras:

Overall: