Title:
Stretch
Genre:
Comedy/Thriller
Starring:
Patrick Wilson,
Ed Helms,
James Badge Dale,
Jessica Alba,
Chris Pine,
Certificate:
US: R
UK: 15
Picture:
1080p
2.40:1
Audio Format:
DTS-HD Master Audio 5.1
Subtitles:
English,
Arabic,
Danish
Dutch,
Finnish,
French. etc.
Runtime:
1 Hours 34 mins
Extras:
None
Studio:
Universal Pictures
Release Date:
USA: Nov 25 2015
UK: Jun 01 2015
See If You Like:
Premium Rush,
Smokin' Aces,
He drove Charlie Sheen for six weeks…
A year after the drunk, drugged-up, Stretch (Patrick Wilson, The Conjuring) falls for the woman who smashed into his car, he's turned his life around and decided to give up gambling (probably best given his heavy debts) only to find the love of his life dumping him mid-coitus, and watching himself spin into a spiral of self-destruction which leads the failed-actor-turned-limo-driver to the events of the film Stretch; where the unconventional driver finds out he has only one night to pay off his remaining $6000 gambling debts, and risks everything in the hopes of grabbing a monster $6000 tip from a big client.
Given Stretch's in the limo business, and his job involves ferrying celebrities from place-to-place, you wouldn't think it'd be too hard – but Stretch isn't great at his job, and does a fairly poor job of impressing his first two clients (Baywatch's David Hasselhoff, and Goodfellas' Ray Liotta), so pins all his hopes on the stupidly wealthy yet wildly eccentric (to put it mildly) Roger Karos (Chris Pine, Horrible Bosses 2).
Yet, as is the case with all of these black comedy/thrillers, it's not exactly an A-to-B drop-off for Stretch this time; Karos takes hedonism to a whole new level, demands Stretch serve without question, and is actually a wanted felon (as it turns out) who has Stretch jumping through all manner of hoops to please him; he ends up lying to undercover FBI agents, fighting with rival limo companies, picking up drug addicts, engaging in car chases, foot chases, and even bumping into his ex-girlfriend all while hallucinating the ghost of a recently deceased fellow limo driver and even finding the time to arrange a blind date.
It's not a laugh-a-minute movie, but when the laughs do come they generally come pretty big, and with the night continually escalating to ridiculous proportions you'll be dying to know how Stretch can escape each new trial, and if he'll ever land the cash to pay off his debts (or even stay out of jail), though thankfully you'll never be bored waiting as there's always something happening in Stretch; a kinetic movie with a limo-load of fun, as each crazy situation is more enjoyable than the last, fuelled by a great performance from leading-man Patrick Wilson, and not only unpredictable, but consistently funny.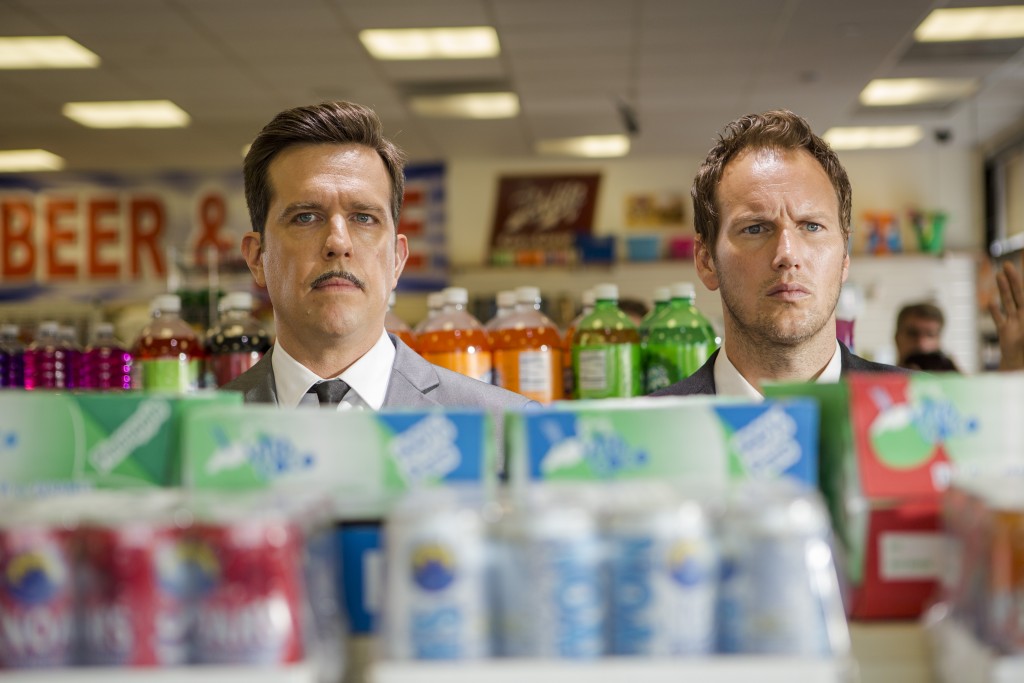 Still, Stretch has it's problems. For one, there's not a single likeable character in the film; despite a solid performance even Stretch himself, the hero of the movie, is an amoral douchebag 98% of the time who's cockiness often tips him to the wrong side of the cool/obnoxious line; the 'eccentric' Karos is nothing but a standard comedy-film/pantomime nut-job (a role perfectly suited to Pine); Ed Helms' (The Hangover) ghost character is supposed to be a shouty bringer of doom; and even the hot receptionist at Stretch's work (Jessica Abla, Sin City 2: A Dame To Kill For), who's actually the nicest member of the cast, isn't fleshed out enough to be memorable at all. The 'twist' ending can be seen coming a mile off, and despite beginning with a pretty awesome car crash, Stretch does need a bit of a jump start to get going in the beginning, yet if you stick with it, appreciate the limited and generally miserable characters for what they are, and simply enjoy the absurd situations, funny black comedy, and all-round entertaining show you're sure to have a great night watching Stretch.
Picture:
Reflecting Stretch's heightened reality, the picture is highly stylised, often bathed in falsified colours and overly sharpened, yet it all suits the tone of the film. The trouble is, while colour representation may be strong, and detail is generally pretty good (though not entirely consistent, as there are periods of softness and jumps in sharpness), the black levels are average (often compromising some of the finer details – and it's not a good thing for a movie set almost exclusively at night to suffer in low lighting), the overly warm palette cranks up the fleshtones to unnatural levels, and examples of aliasing mean Stretch looks average on Blu-ray, and unfortunately nothing more.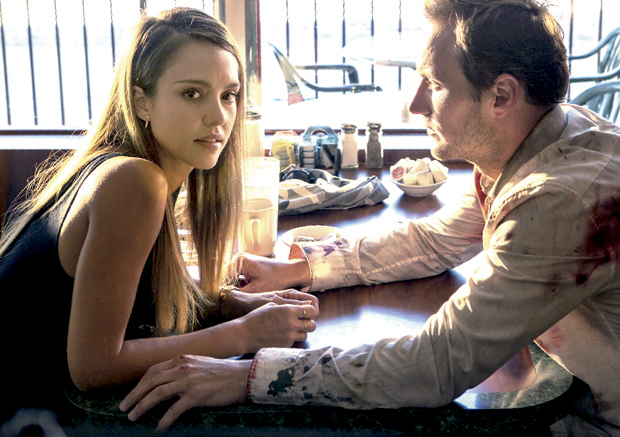 Audio:
On the other hand, the 5.1 dTS-HD Master Audio track accompanying Stretch to Blu-ray serves the film far better. While it may be lacking and certain lifelike ambience here and there, and fall short in terms of clarity compared to some reference quality materials,
Extras:
Sadly, Stretch comes to Blu-ray without a single special feature. No audio commentary. No Behind The Scenes featurette. No interviews. No deleted scenes. No gag-reel (despite one appearing online last year). Not even a basic trailer.
The Bottom Line:
Despite the woeful lack of bonus materials awarded to this release, Stretch is still a pretty solid Blu-ray package; the audio is excellent, and while there are a few niggles with the video transfer it's still rather slick looking, and is definitely the best option for watching a film which deserved a theatrical release. As unusual as it is fun, Stretch has fantastic momentum, is undeniably enjoyable, and features a great performance by Patrick Wilson, as well as a couple of amusing cameos (not counting the almost self-parodying Chris Pine). It's a madcap ride which isn't to be taken seriously at all, it's quirky, it's fun, and while it may not be the funniest, or even most original, comedy you'll see this year, you could do a lot worse than watching Stretch. A recommended rent, or bargain bin pickup down the line.
Matt Wheeldon – @TheMattWheeldon.